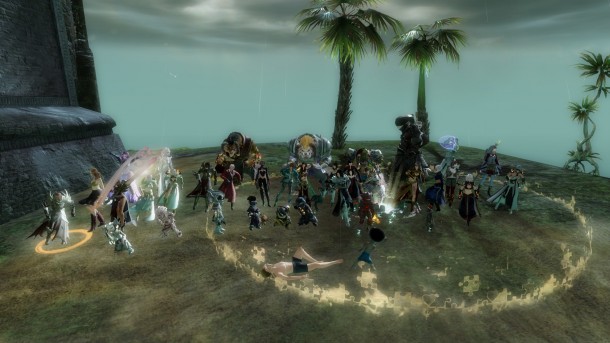 By golly, it's been ages since we updated the guild blog! This would be the first post in the year 2013 and we have indeed survived the proclaimed "End of the World". Though I am 24 days too late, I still would like to wish everyone: Happy New Year from Yakisoba! Hahah.
So anyway, 2 big announcements to all members. We have promoted 2 members to take up officership in Yakisoba and here are the 2 announcements posted on our Facebook page:
On Roufas, our new WvW Officer:
I am pleased the announce that Steven Tan (Roufas) has been promoted to be an Officer of Yakisoba. Roufas has been a WvW Captain for awhile, and has answered the call for a need for new officers.

With his new appointment, he is now a WvW Officer, together with Wilson Chan (Shader) and also has the power to accept and recruit new members.

Please welcome him!
and Keitaru, our new PR/HR/Welfare Officer:
Additionally, I am pleased to announce that Calvin Yio (Keitaru) has been promoted to as Officer as well. He will be incharge of PR/HR/Recruitment, together with Michael Chin (Enzer).

Keitaru is very active in Guild Wars 2, and part of the group of very active players in the guild. He has shown great pro-activeness in assisting in moving the guild over to Jade Quarry, and does not mind stepping up to take up officership in Yakisoba.

As a guild leader, it pains me that I no longer have the luxury to play as long as everyone. But I recognize the importance of having active officers in the guild to serve as my eyes and ears, and to look over issues that may arise within our members. It is important to constantly maintain good relationships with all members part of the Yakisoba family. Keitaru is part of the PR/HR team, and if there are any issues, please do raise it to him and he will inform me.

Please welcome him!
Yakisoba is surprisingly staying strong, with a core group of players actively raiding dungeons, farming for their legendaries, as well as WvW. Also most recently, we have moved our homeserver to Jade Quarry. Our members are still in the process of moving over and we are very happy to be warmly welcomed by the community there, whom we have fought and come to respect in WvW. It is a strange feeling to now take arms along side old an nemesis, but Jade Quarry has always been a brother we all want to kill, but still eventually love. It is an exciting direction to take for the guild in terms of the development of WvW, and keeping it fresh. Unfortunately, this decision has also come with a price. A price of leaving our friends NYS, SYN and SSQ, whom have chosen to leave Stormbluff Isle for Sanctum of Rall instead.
Merody, the leader of NYS left us a farewell message:
When I heard you guys will not come with us to a new server, my tears burn my eyes (real one). Because I know that free transfer is about to close and we cannot fight together anymore. I try to come out from the sadness. Although we are not partners anymore, but NYS always being your friends. Guild Wars 2 is only starting point of our friendship. We want to make a deal with you – Yakisoba. When we get bored in Guild Wars 2, Not Yet Solved will goto play ArcheAge Online. I hope we can play together in the same server, in the future. If you don't have interest to play. No worries! We will wait for 1 decade,2 decade and finally, lets meet at the endless point of human being's dream game – Sword Art Online.

If you feel unhappy in the new server, call merody. If you want to come and play with us, call merody and I will pay for you to come.

Have fun and best wishes!

Merody and NYS
I have yet to reciprocate his message and will now take the opportunity to do so in this post:
Dear Merody,

While it pains me to make this decision, it was a necessary choice for our guild moving forward when the paid server transfer kick in. We will not forget the wonderful memories we have forged together with you and your guild, and most certainly we will keep in touch with you. ArcheAge is an interesting MMO choice, but whether or not we will move there when our interest in Guild Wars 2 wanes, only time will tell. But still, may we continue to play different games together and keep the friendship close!

For now, we look forward to seeing you bring SOR to T1, and we look forward to having exciting battles with you and NYS.

Best wishes,

Tsuu and Yakisoba