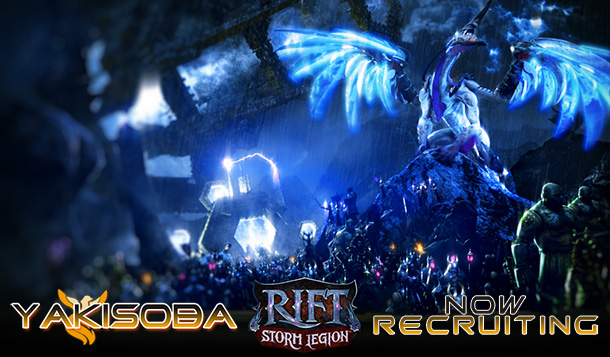 Yakisoba Rift @ Hailol is now recruiting new Rift Raiders to join our community!
Greetings Fellow Ascended!
Who are we?
Yakisoba, level 25 Semi-Hardcore Raid guild on Hailol shard, we're currently open for recruitment. Seeking out experience, dedicated and competent raiders who looking to progress and conquer content in Rift: Storm Legions as a team and as a family.
Our members consist of players from the other side of the pacific mainly Singapore, Malaysia, other parts of Asia as well as Australia with a couple from US.
**We do not tolerate QQ nor Drama in the guild**
Raid Progression
Tier 1
Triumph of the Dragon Queen

: 4/4 (13/6/2013)

Frozen Tempest

: 4/4 (23/7/2013)

Endless Eclipse

: 5/5 (22/9/2013)
Tier 2
Grim Awakening

: 4/4 (21/11/2013)

Infinity Gate

: 3/3 (Oceanic 2nd Volan: 19/5/2014)

Planebreaker Bastion

: 3/5
Progression Schedules (20 Man Tier 2)
Thursday | Sunday | Monday (9 PM~12 MN GMT+8 / 5 AM ~ 8 AM SVT)
*Note time change due to daylight saving
Time Conversion
Timings above are in local Singapore time, 9 PM ~12 MN (GMT+8hrs).
Server time would be 5 AM ~ 8 AM (Daylight Saving)
Loot Rules
Progression raids: Loots in these raids will be sorted via council loot, loot will be given to a player which officers believe will benefit the raid most.
Recruitment
Open to all who is interested in joining our family accepting casual players as well.
Raid Team Recruitment (Min req: 520 Hit/Toughness with Tier 2 Raid content experience.)
We're looking to recruit competitive, reliable and motivated team players who are looking to join us in our adventures through through Conquering new raid content:
Rogue

–

CLOSED

Warrior

–

CLOSED

Mage

–

CLOSED

2x

Cleric

–

OPEN
**Recruitment are open to casual players who are looking for new home as well (Casual players just PM Keitaru@hailol in-game for invite)

Our Rift Raid Management Site (self-made management site with chatbox!)
Yakisoba Rift
Our Official Community website
Yakisoba Guild
Our Twitch.tv details (Used by all our gaming community)
Yaki's Twitch.tv
Communication
Mumble is required for all raids. Just listening is fine if you do not have a mic or are mic shy.
**P.S. If you are applying to us from another server do get in contact with me (Keitaru@Hailol)
Recruitment Peeps To Contact(@hailol if your from another server):
Keitaru/Keitty (Guild Leader)
Erse (2-IC)
Adenosine (IC)
Gelenirkm (IC)
Yoruichi (IC)
* CL = Class leader
**If you have problem accessing the link above… do clear your browser cache via internet options.