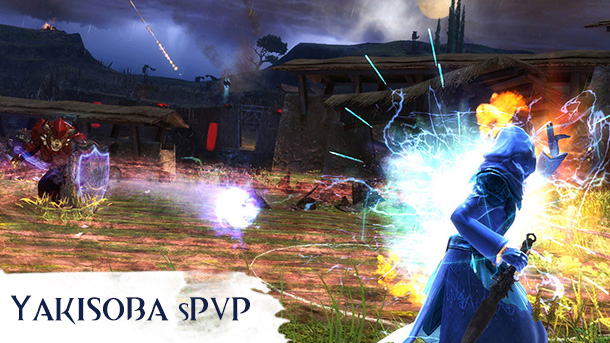 I am glad to announce the start of our sPvP teams which is headed by team leaders and overseen by Pain.6478 our PvP officer.
sPvP in Guild Wars 2 is skill based, highly competitive version of the standard Arena Conquest gameplay. It is split between public sPvP with up to 16 players, and premade tournament type consisting of 5 man team, like the 5v5 LoL/DotA ladder.  The objectives in each of map for the current conquest version is the same, get more points than the opponent team. Each of the map have different ways of achieving said points, people who need more info on this should read up on more of this at the official wiki.
In sPvP, everyone will have access to every single exotic sigils and equipment. You will have access to all skills and traits. The only thing that differs you from your opponent is your build and player skill. This makes sPvP easy to jump in and play, but hard to master, which is one of the main criteria as an eSports.
For members that are interested in sPvP but doesn't have a 5 man group yet, please contact Pain in-game for public PvP tryouts where you can try out sPvP and hopefully find a group of players that you can form a 5 man with.

This is because in sPvP, each team needs to bond and gel as a united whole, knowing the playstyle of each of your 5 man member is very important in order to play sPvP well.

This is unlike WvW where anyone can join any team and just follow instructions.
For those that have an unofficial group or a partial group. Please contact Pain with your group information, this is so we can included you in our roster and be eligible for in-house tournament.
Our official group page is at [link], please apply here if you are interested and are already a member of Yakisoba.
Team Structure
We will have multiple team leader in charge of their own sPvP 5 man group.Pain our PvP officer would be overseeing all the groups leaders for tournament play.
Team leaders are the group leaders of the 5 man team, they are in charge of maintaining team morale and standards of play. They will need to come up with strategy and builds for their team, with the support of our PvP Officer and the Yakisoba sPvP Group. Each group indubitably will have different playstyle according to the strength and weaknesses of their members.
In-house Tournament
We will be organizing in-house tournament after we have established a couple of teams and when we feel that each team would give the other a run for the money.
The in-house tournament will feature prizes in the form of Steam Games and In-Game Items. We will add additional prizes as the pool of potential team increases. This will give you somewhat an incentive to play to the best of your abilities.
Team Roster
The team captains and their teams will be published on the right side of the web, and the team itself will also be featured in the facebook group and on the web occasionally.