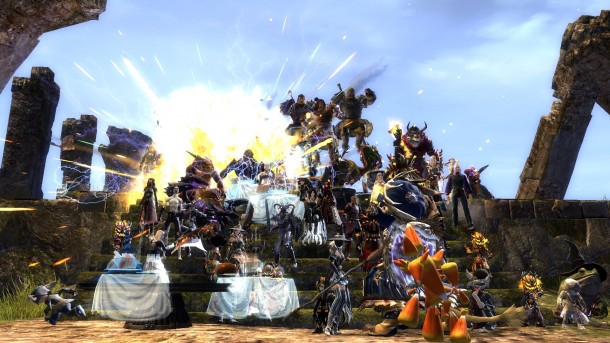 Last week we quietly moved to SBI, together with a few guilds we have been playing closely with (SYN, NYS), in search for a new homeserver after we realized that there was nothing left for us in HoD. HoD was a dying server, the NA coverage was non-existence and morale was at an all time low. But having moved to SBI, we can say that it was truly one of the best choice we made.
The last WvW matchup JQ vs SBI vs IOJ was perhaps one of the most fun and intense WvW match we ever had so far. SBI was lagging so far back in points against JQ, yet the server never gave up and continued fighting. We took over and went full force during our primetime and together with the other guilds, dominated our borderland. To see SBI actually overtaking JQ in points is one of the most satisfying thing ever, and we are proud to part of the SBI guilds that made it all happened.
The community here at SBI is also very friendly and nice, and we hope to stay here for the long haul. Our new current match up seems like a tough one, the new tier 1 entry Blackgate is a very strong contender. Some of our old friends from TA are on it and are a force to be reckoned. But we look forward to pulling off another comeback with SBI.
Also, Yakisoba is still looking to recruit new members to join our ranks. If you are WvW-centric, and want to play in an organized guild and play during our prime time (around 7pm-12am GMT +8), do join us! We have an active guild that does a lot of PvE, WvW and PvP together. PM Tsuu, Shader or Enzer for details on joining us.